Can You Identify Anyone in This Photo?
Barbara Gillham McCarthy submitted this photo of the Fairview School, taken in February 1895.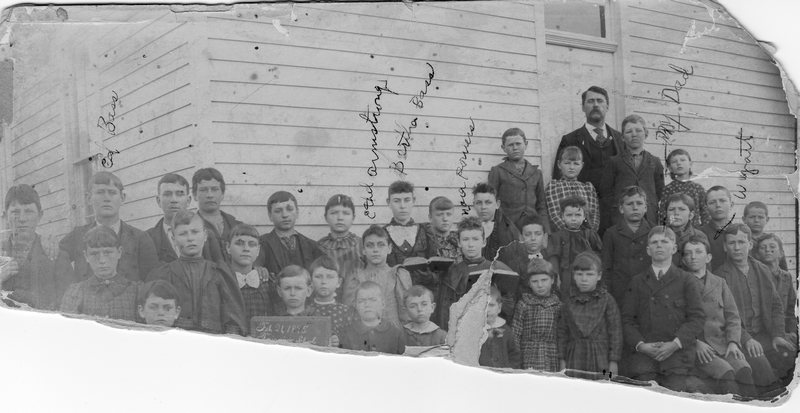 Mrs McCarthy sent the following information with the photo:
"It is in rough shape because it traveled from Missouri to Oklahoma in 1907, back to Missouri in 1909, then from the farm in Sarcoxie to Kansas City. It was passed from one sibling to another until my grandmother was able to identify a few people.
The Individual labeled "my dad" is William Oscar Davidson, b. 31 Jul 1881 in Sarcoxie, Jasper Co, Missouri. He married Rebecca May Bender 31 Jul 1900 in Neosho, Newton County, Missouri. They had eleven children, six of whom survived childhood. After Rebecca May died in 1947, he married Eda Ellen Tolle 4 Jun 1950 in Jackson County, Missouri. He died 27 Jun 1956 in Kansas City, Jackson Co, Missouri. William Oscar Davidson was my great grandfather. His daughter (and my grandmother) D. Ruth Davidson Gillham, 1905- 2002, labeled the photo.
The individual labeled Ed bass is Edward Elias Bass, born 12 Feb 1879 in Reeds, Jasper, Missouri. He married Martha Elvona "Vona" Daniels 6 July 1899 in Jasper Co. He died in 1956 and is buried in Sarcoxie.
The person labeled Nora Powers is Nora Jane Powers born 8 Jan 1883 in Pepsin, Newton County, Missouri. She married Hugh Elbert Carr 18 July 1901 in Pepsin, had 6 children and was divorced from Hugh in 1941. On 1 Feb 1949, she married Cloyd "John" Burkholder in Benton County, Missouri. She died the 22 Nov 1972 in Webb City, Jasper County, Missouri and is buried in Powers Cemetery in Pepsin.
I have been unable to find out anything about Bertha Bass, Ethel Armstrong or Wyatt (last name unknown)".